1987
Our employees develop their first special machines and robot cells.
2003
Creation of the company ERI Vallon, studies and industrial realizations. The machine is launched!
2004
Creation of special machines for the nuclear sector.
2005
Production of machines for China and Mexico for the energy and medical sectors.
2006
Export of a continuous kinematics assembly machine at 24 000 pcs/h for Central America..
2007
Realization of an assembly and filling line for the energy sector.
2008
1st LB Compact, standard ERI machine with cams and mechanical table.
2009
Integration of 36 robots in production lines for the pharmaceutical sector.
2010
ERI continues its international development with the creation of production lines for the United States..
2012
ERI creates its first magnetic transfer machine.
2014
Integration of the urosonics by ERI brand, expert in ultrasound technology.
2015
ERI creates its 300th machine.
2016
A new dynamic in 2016, ERI renews its graphic charter and changes its logo! ERI Vallon now communicates with the ERI machine & automation logo.
2017
ERI designs 3 battery assembly lines.
2021
ERI develops its expertise in the automotive battery with 2 electrolyte filling lines.
We put at the service of your projects a mechanical and automatism design office composed of 25 engineers and technicians working with SolidWorks software, installed on 2000m², completed by an autonomous building of 450m² in order to carry out the assembly, the tests and the development.
The richness of the professions present in our society assures you of a special machine that is operational in every detail: sales team, design office, wiring and electrical know-how, mechanical assembly, electromechanical tuning, after-sales maintenance and technical support.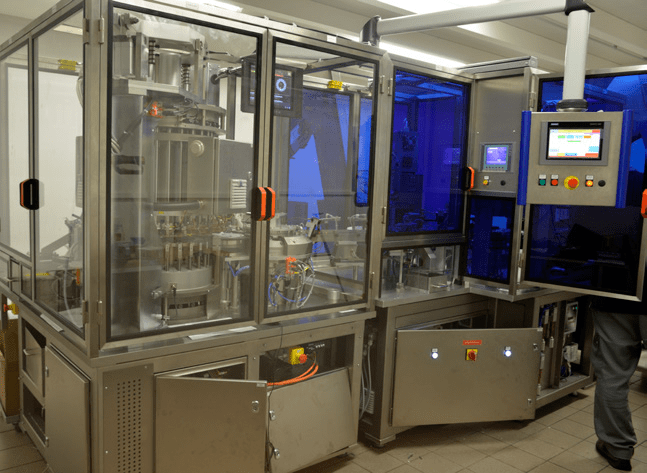 ERI is a large family where the complementary nature of the professions and the personalities of each person create a harmony that has lasted since 2003.
ERI, with 40 years of experience in the world of special machines, dedicates 5% of its turnover to its R&D department and is thus in constant innovation.
Accompanying the customer from A to Z
You benefit from a single contact person from the beginning to the end of the design of your machine. ERI guarantees the training of your teams in the use of the new equipment and ensures an effective after-sales service in France and abroad taken care of by the team that created your machine.
All ERI machines are certified as conforming to CE quality standards. This marking materializes the conformity of the product to the community requirements. ERI offers you reliable "made in France" machines that meet European quality requirements.